IR CH. INISHSTORM GIULIETTA ('GIULI') 7 Green Stars/1 CACIB/4 Res CACIB. Giulietta had also achieved her Qualifying Certificate for work and now becomes the fourth Inishstorm dogs, three of which are home bred!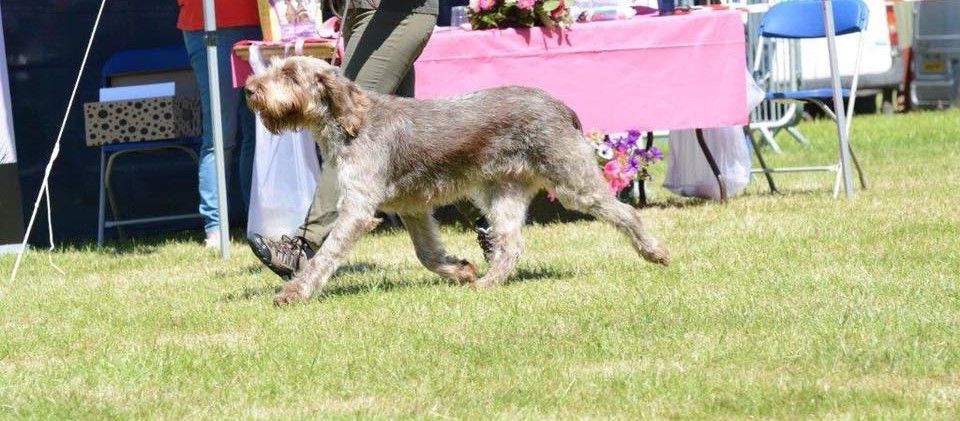 Date of Birth:  17th April 2014
C.O.I. :  The level of inbreeding - the full genetic COI has been carried out by Cornell                           University, USA.  Giulietta has a 10% COI over 39 generations.
Height at Withers:
Weight:  32kgs
Teeth:    Scissor Bite
Hips:       7:9
Elbows:  0:0
Eye Test:  

   
Clear of Hereditary Cataracts/Entropion/Ectropion

(April 2018)
Cerebellar Ataxia: Tested Clear in April 2018
At Inishstorm, we place the good health and temperament of our dogs as being of utmost importance.                               We don't just talk about it, we carry out as much testing on our dogs as possible when considering who may be
eligible to go forward into any breeding plan. 
As such, all our Spinoni will undertake Elbow testing in addition to the normal Hip test
and CA test.   Giulietta has also undergone full EMBARK testing via Cornell University, USA, which delves deeper              into her genetic  make up.  We are delighted to announced that she has tested NOT AT RISK of all 165 condition tested       and is NOT A CARRIER for any of those conditions tested either.  Giulietta has also tested CLEAR for Degenerative    Myelopathy & Malignant Hyperthermia.  This is ground breaking testing that only a handful of UK breeders have undertaken.
.
Dutch Ch Stannamore Generoso Emilliano

Dutch Ch Wynsett Wicked Devil

Gallowdyke Wreckless Eric at Sundeala

Dutch Ch Aprilla i Tenerci Amici

Buffo Bimbetta of the Stokkem Ferry

Dutch Ch Mantenere Una Promessa Insieme a Te

Mantenere Una Promessa Dongiovani

Dutch Ch Mantegna Candore

It.Ch. Abs Giasone Dei Pedrazzini

It. Lavoro Ch. Rip Umago Del Brenton

Ir.Sh.Ch. Spino del Leircote
Giuli swimming for the first time at 16 weeks of age
You are visitor number: 128