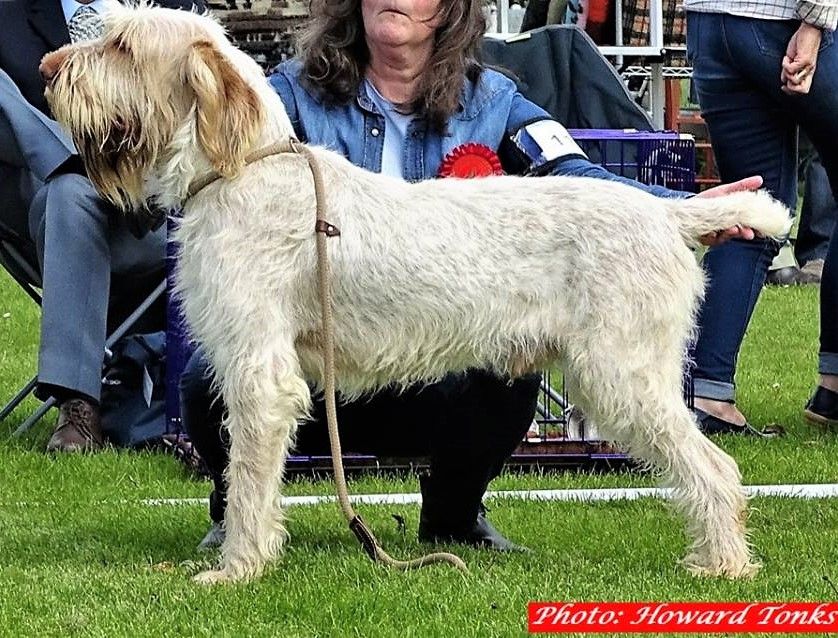 INISHSTORM MARIO -  (2 Green Stars at Championship Shows)
Date of Birth: 10th July 2016
C.O.I.      The level of inbreeding - the full genetic COI testing has been carried out by Cornell University, USA.                               Mario's COI is 12% over 39 generations
Height:
Weight: 35kgs
Teeth: 42 scissor bite - complete dentition
Hips:  3:4
Elbows:  0:0
Eyes:      Clear of Hereditary Cataracts/Entropion/Ectropion (May 2018)
Cerebella Ataxia Results: Clear (Tested) April 2018
Mario has two testicles (descended)
At Inishstorm, we place the good health and temperament of our dogs as being of utmost importance.            We don't just talk about it, we carry out as much testing on our dogs as possible when considering who may be eligible to go forward into any breeding plan. 
As such, all our Spinoni will undertake Elbow and Eye testing in addition to the normal Hip test
and CA test.   Mario has also undergone full EMBARK testing via Cornell University, USA, which delves deeper into his genetic makeup.  We are delighted to announce that he has tested NOT AT RISK of all 165 conditions tested and is NOT A CARRIER for any of those conditions tested either.    Mario has also tested CLEAR for Degenerative Myelopathy & Malignant Hyperthermia. This is ground breaking testing that only a handful of UK has undertaken.
We will also look at the inbreeding coefficient percentages ("COI") when researching
any prospective mates.
CALDOCANI CESARIO JW ShCM

Sh Ch. Letyreos Cold Cut at Caldocani

Epithelium Oracolo with Wynsett

Sh. Ch. Brody dal-Podere-Antico at Wynsett

Sh. Ch. Roscali Lucilla at Letyreos

Sanjika Izadora at Caldocani

Connomar Salvia at Sanjika

IR CH./IR SH. CH. INISHSTORM VITTORIA JNR CH.

Sh.Ch, Adinas Mandriano at Valabeau

Sh.Ch. Brody Dal Podere Antico at Wynsett

Sunsanna Donatella of Adinas

Bannonbrig Painted Lady of Boxlock

Sh.Ch.Fernando Laerzio by Inostricani

Ir Ch/Ir Sh Ch Bonnie Rock at Inishstorm
You are visitor number: 99